We added the sun room to the Demonstration House as an experiment in passive heating. Its contribution was not part of our energy calculations because we had no idea how productive it would be.
The sun room is – and isn't – part of the Demonstration House.
It is because:
It is part of the heating system on sunny spring and fall days.

This 13' X 20' room, accessible through French doors from the living room, is usually a bright, friendly room we love to sit in.

We dry part of our laundry there.

We use it as a nursery to start plants each spring.
It isn't because:
It is thermally outside the house, with the wall and doors between fully insulated.

It is too cold to use on gloomy winter days.

It is sometimes uncomfortably warm on sunny summer days.
The sun room sits on its own slab floor, insulated from the ground, the foundation, and the house floor. Its east, south, and west walls, and most of the ceiling, consists of double-pane windows optimized for light transmission. The wall windows are fully openable. The floor and the north wall are flat black to most efficiently convert incoming sunlight to heat.
The wall windows have Venetian blinds for light control. Additionally, a set of flat white light-reflecting shades are installed under the ceiling windows in the summer months.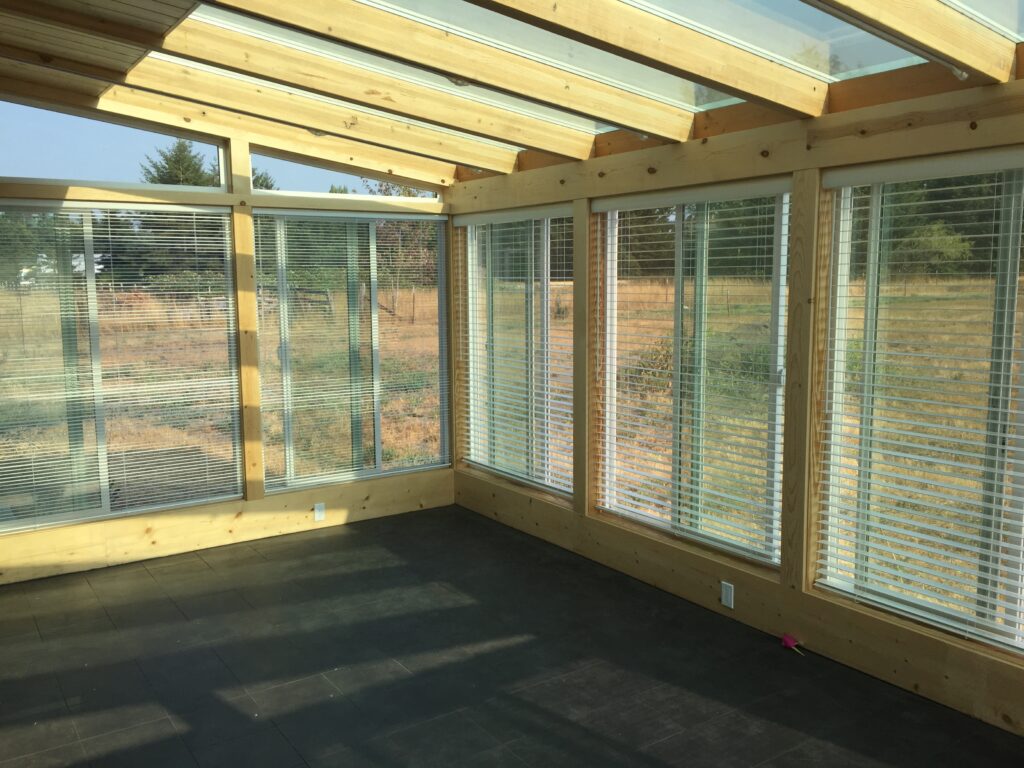 In the heating months, with the ceiling shades removed, the wall shades fully up, and the windows closed, the internal room temperature often reaches 40 degrees above outside temperature. Any time the sun room temperature exceeds 80 degrees, a fan blows the warm air through a duct and into the hallway in the middle of the house. The operation is fully automatic.
In this mode, we find that the sunroom contributes significantly to the heating task during the spring and fall months.
In the summer we shade the ceiling windows, open all the wall windows, let the shades down and adjust their angle to most effectively reflect the sunlight. In essence, we convert it into a shaded screen room. Even on cloudless days, the room rarely exceeds 80 degrees in this mode and is quite pleasant in the mornings and evenings.
Our custom-built sun room is what the trade would call a "three-season" type, meaning that it wasn't designed to be heated. While it occasionally gets enough sun to be usable, most of our winter days are cloudy and so we simply leave the room in heating mode, but keep the doors to the house closed.